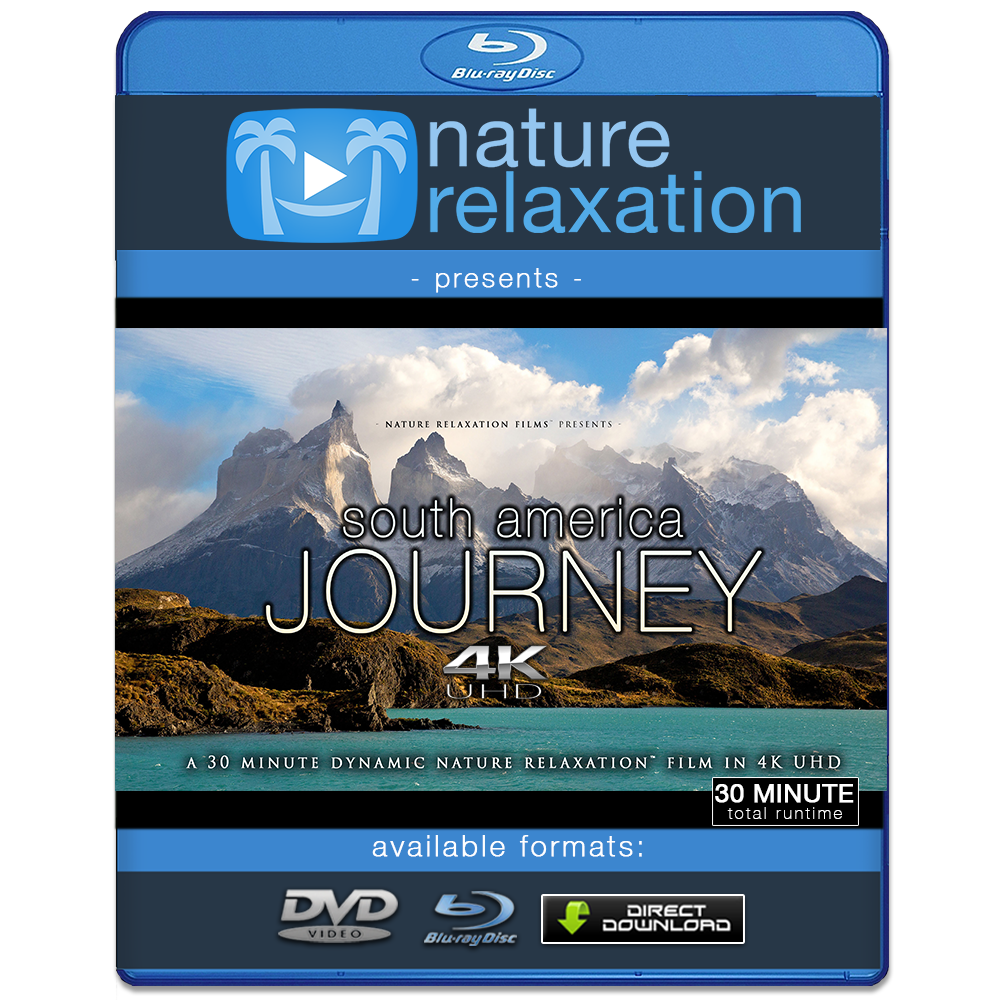 View Larger
Description
"South America Journey" transports viewers on a 30 minute ultra-dynamic, uplifting yet relaxing journey through the natural wonders and other-worldly vistas of South America's Chile, Argentina & Bolivia - paired with exclusive new music and subtle real-life nature sounds. Enjoy these world famous and incredibly beautiful destinations in glorious Ultra High Definition: Torres Del Paines / Patagonia, Easter Island, Salar De Uyuni, the Atacama Desert, Iguazu Falls, Perito Moreno Glacier; Enjoy a mix of landscapes and wildlife like flamingos, alpacas, llamas & wild horses as the journey progresses, with scenes both from above and on land. The beautiful symphonic / orchestral ambient music was custom written by Antonio Resende (http://antonioresende.com/). Aerial cinematography provided by friend and fellow filmmaker Johnny Copter (http://www.johnnycopter.com).

PREVIEW THIS VIDEO:

(note the preview shows just 5 minutes; the full video is 30 minutes)
VIDEO DETAILS
Length: 30 Minutes
File Size: 11GB (4K); 3Gb (HD)
FORMATS AVAILABLE:
4K or 1080p Digital Download, 1080p Instant Streaming, 1080p Blu-Ray DVD, 1080p Video on an SD Card, or Standard-Definition DVD (non-Blu-Ray)


DVD & BLU-RAY SHIPPING INFORMATION:

Please allow 5-9 business days for delivery; rush shipping available upon request.
DVD Shipping Rates:
USA: $5; Canada: $15; International: $25

Reviews
FAQ
How will I Receive/ Download my Purchased Video for Digital Download?
Shortly after your order, you will receive an email from Nature Relaxation / Wholesale Content Delivery containing a link to download your purchased video(s). All you have to do is click to begin your download! (Note in some cases the link will need to be sent to you manually, in which case it can take up to several hours; for immediate assistance, join Live Chat to request your file sooner.)
The download is digital but I am still asked for my address. Why?
For security reasons, a valid ZIP code must be provided to match your billing address with the card - this is to protect our site and it's users.
Will the Purchased Video File Have a Watermark?
No - purchased files generally have either no watermark or in some rare cases it may have a very small one in the corner of the video. (I am working to update all videos so that they have zero watermarks so if you see one, please request it be updated and I will do so.)
Do You Ship Internationally? What are your International Shipping Rates?
Yes! I will ship Nature Relaxation DVDs, Blu-Rays, and SD-Cards or Bundles /plans with hard drives included to any country in the world that has shipping services! Standard rate is $24.99 for all orders and the courier will be USPS, FedEx, DHL, or UPS. In most cases, tracking is included and the fee covers priority (air) deliver at no additional fee. Orders to Canada are just $14.99. Please expect up to 14 days for orders in Canada; up to 4 weeks for international orders.
What if the files I Downloaded don't work?
Relax; simply contact support@naturerelaxation.com and every effort will be made to make it work. Remember, your satisfaction is guaranteed 100% or your money back!
Is my personal information safe?
Completely. All data is encrypted securely thanks to the trusted Shopify platform. Your information will never be stored or shared.
Am I allowed to use the video(s) I download for creative projects?
Not unless you purchase a commercial license, or have contacted David Huting and have received permission to do so. Generally speaking, if your project involves re-uploading the video to YouTube, a license will be required, and in many cases a watermark to protect the integrity of the videos from YouTube pirating. The good news is the licensing fee is very flexible depending on your project.'s goals.
LICENSE A NATURE RELAXATION VIDEO
Use the form below to request a free license quote: